Lee Holcombe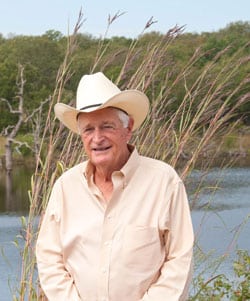 Lee's roots grow deep in the Tallgrass Prairie of Osage County and trace back almost 100 years to his grandfather, an attorney, who came to Oklahoma in 1900. One son is a third generation rancher while another practices law in the Osage as did his grandfather. A third son is a bank executive in Birmingham, Alabama. Born on a ranch, he has been instilled with the love of agriculture since birth. He is a graduate of Pawhuska High School and Oklahoma State University, then known as Oklahoma A & M, with a B.S. in Animal Husbandry. His service in the military was as an Armor Officer, serving as a Company Commander and Battalion Staff Officer at Fort Stewart, Georgia.
After military service, he ranched with his dad, and after his father's death, with his son during the difficult agriculture economy of the 80's and 90's. Cross Timbers Land, LLC was formed in 1998 and has evolved into the firm today that is owned jointly with Jeff Henry. The company has stayed true to its objective of being the company that offers professional real estate services for ranch, farm and recreation properties.
His involvement in the industry and community has included 10 years as a board member of the Oklahoma State Department of Agriculture, President of the Osage County Cattlemen's Assn. and numerous committees' for the Oklahoma Cattlemen's Assn. The Presbyterian Church and numerous civic activities have been an enjoyment and he has enjoyed his position as a member of the board of the Sutton Avian Research Center located near Bartlesville, Oklahoma.
His love of people, especially those with an interest in land and agriculture, and his varied background in ranching, forages and livestock has made the transition from rancher to real estate broker a natural change.
Jeff Henry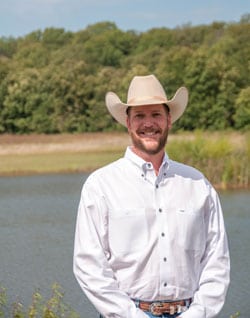 Jeff has been involved with ranch real estate and Cross Timbers Land LLC since 2004 and holds a full Brokers license in both Oklahoma and Kansas. Jeff was born here in Osage County, but grew up in the Texas panhandle and worked on several ranches throughout high school and college.
While attending Oklahoma State University (OSU) he received a Bachelor's of Science degree in Animal Science with an emphasis in pre-veterinary medicine and Masters of Science degree in Animal Science with an emphasis in Equine Nutrition. While attending school he worked at the OSU Purebred Beef Cattle Range as an undergrad and served as a teaching/ graduate assistant and was responsible for the management of the OSU equine teaching herd including: AI, palpation, ultrasound, hormone therapy, foaling, marketing and general care of the herd.
Jeff is heavily involved with the Oklahoma Society of Range Management and is past President of the Osage County Cattlemen's Association. Jeff and wife Megan own and operate a cow-calf/ stocker operation in northern Osage County with a focus on raising quality forage based Red Angus cattle, cow bred Quarter Horses, Airedale Terriers, box turtles and any other creature 3 kids can drag in. He is an avid sportsman and enjoys anything outdoors.
Ben Allen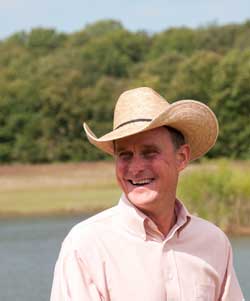 Ben's family came to the Osage in the early 1900's. His grandfather Jim, opened a feed store in Pawhuska in 1919. Allen Brother's Feed is still operated by a family member. Ben graduated from Pawhuska High School and then served in the United States Army with the 19th Military Police Co., Ft. Carson, CO. After being honorably discharged, Ben's love of the Rocky Mountains took him to Bozeman, Mt. where he attended and graduated from Montana State University with a degree in Ag Business. An opportunity to work and train horses with Buster Welch at the King Ranch found Ben and his wife Sue, moving from Montana to south Texas. Eventually, horse training brought him back to the Osage where he trained horses for the Mullendore Cross Bell Ranch and started running cattle for himself. He continued to train a few horses and was one of the top judges for the NCHA.
In 1997, Ben had an opportunity to work as the Extension Agent for Chautauqua County, Kansas. During his tenure with K-State Research and Extension, he was instrumental in helping develop Ag Tourism and lease hunting around the state. He served in this position for 17 years before retiring and accepting a position as an Ag Loan Officer for the 1st National Bank of Sedan. Ben's interest in hunting and outdoor activities has continued with the management of several thousand acres of farm and ranch land for lease hunting. This has provided contact with many out of state hunting enthusiasts. Ben continues to represent the bank on a part time basis and is looking forward to working with Cross Timbers Land to serve the landowners in the Flint Hills of Kansas.
Jerry Brabander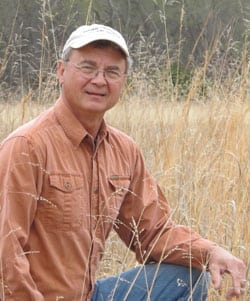 Jerry grew up on a farm outside Deer Creek in Grant County, Oklahoma.  After graduation from Deer Creek High School in 1969, he attended Northwestern Oklahoma State University, Alva and Oklahoma State University, Stillwater, where he received a Master of Science degree in 1977.  After 31 years of government service and living in a number of locations throughout the U.S., Jerry returned to the 400 acre family farm with his wife, Dinah, built a home and set about managing the property for agricultural production and recreation.  He joined Cross Timbers Land as a Sales Associate in 2014.
In addition to his hands-on land management activities, Jerry is active in his church, serves on the Board of Land Legacy, is a Council Member of the Wheatland RC&D, and a member of The Wildlife Society.  He is a Certified Wildlife Biologist, with special expertise in prairie fish and wildlife resources.  Well managed farm, ranch and rangeland  have a special place in Jerry's heart.
Jerry's government experience, professional background, and organizational involvement blend well with the other members of the Cross Timbers Land team and add to our ability to serve landowners and prospective buyers alike.
Colin Walden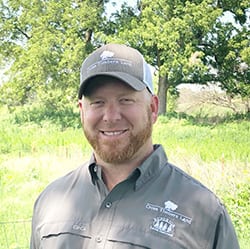 Colin is a native Oklahoman having grown up in the south-central part of the state. Colin has been involved in agriculture and land management from an early age. He attended Oklahoma State University, earning a degree in Rangeland Ecology and Management while minoring in Animal Science. While attending OSU, he served as President of the Range Club and in 2016 served as President of the Oklahoma section of Society for Range Management.
Colin has been involved in rangeland management, research and conservation for over a decade with both private ranches and the USDA. He is passionate about land stewardship, sustainability of land and forages and passing that knowledge on to current and future landowners. His expertise in native ecosystems, soils, and land use potential will be a valuable asset to anyone looking to buy or market properties in Oklahoma.
Colin currently resides in the Stillwater area with his wife Cortney and one ornery little boy named Dax. He is excited to join the expert team at Cross Timbers Land in assisting buyers and sellers make informed and educated real estate decisions.